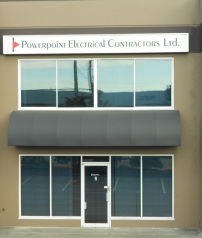 Powerpoint Electrical Contractors Ltd. has been in existence since April 1994. We have been fortunate to work on a great variety of projects over the last 23 years with many supportive General Contractors. We have gained a reputation of exceptional service that we are continually building on.
It is our policy to:
1. Put our customers first,
2. Respond thoughtfully & timely to project needs
3. Provide the best available equipment, service, and advice,
4. Preform our scope of work, on time, on budget, and on principle.
We firmly believe that our reputation for competence, integrity and commitment to quality workmanship has to be earned.
We offer an advantage of expertise in up to date building methods, material and technology

We ensure projects are done by latest standards & satisfying all the governing codes.

We have the technology to design, supply/build all systems of work within electrical scope
We strive to ensure we support every demanding schedule, reducing supervisory costs for General Contractors.
We provide ongoing service, committed to completing every urgency in a prompt fashion.
We work and deal closely with all clientele at their convenience, ensuring their needs and expectations are accommodated for
We pay close attention to detail, ensuring that the consultants' design is carried through
We work closely with other disciplines on projects to provide efficient and effective results
We employ highly ITA trained & experienced electricians with red seal certification
With Powerpoint's overall construction experience, we're confident we are providing an excellent coverage of talent and skill.
Should you have any questions or wish to meet further with me, please feel free to contact me anytime.
Sincerely,
Rudy Dyck
President
---